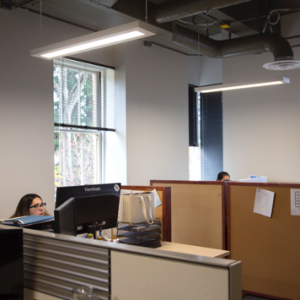 As local facilities and businesses undergo phased re-openings, the advanced features of smarter lighting systems, such as Luminaire Level Lighting Controls (LLLCs), are more important than ever. In addition to providing easy control of individual fixtures and comprehensive insight into overall lighting energy use, LLLCs can foster safer, healthier indoor environments by monitoring air circulation, ventilation and occupancy levels throughout a building.
Many buildings were shut down in March without knowing when they would be re-occupied and how the closure period might affect their systems. Many of these facilities are currently evaluating, planning, and implementing necessary maintenance and upgrades in order to open safely.
The buildings that are best equipped to undergo this evaluation and planning are those with smarter lighting systems, such as Luminaire Level Lighting Controls (LLLCs), that provide comprehensive, real-time insight into a building's lighting energy performance. And many managers in charge of buildings that don't feature smarter lighting systems are taking this opportunity to make the upgrade with a wide variety of retrofit options on the market, including kits.
The smartest lighting systems, like LLLCs, provide additional benefits beyond energy savings and performance insight. These systems are designed to exchange information with other critical buildings systems, such as security. This information exchange can be critical during phased re-openings, as LLLCs can help monitor the number of occupants so a building does not exceed pre-determined allowances. Luminaires also feature individual temperature sensing devices that alert the HVAC system of the slightest adjustment in air circulation and ventilation, making it much easier for building operators to provide healthier and safer indoor environments.
There may not be a better time for building operators to consider the benefits of smarter lighting systems. For this reason, many local utility programs are offering increased incentives or limited-time bonuses for customers to help offset the cost of implementing these long-term, high-value solutions.
To learn more about all of the LLLC incentives throughout the region, visit: betterbricks.com/resources/regional-incentives-for-lllc