Advanced lighting and controls provide benefits beyond energy savings—they also offer a variety of non-energy benefits that deliver significant value to your customers.
By understanding how luminaire level lighting controls (LLLCs) can solve the specific lighting challenges facing your customers' facilities, you'll have the opportunity to increase your sales and improve overall customer satisfaction.
LLLCs are a simple, cost-effective way to add value to any facility. With factory-embedded sensors integrated into each luminaire, LLLCs not only provide out-of-the-box installation simplicity for retrofits, they also offer an easier path to energy code compliance for major renovations and new construction projects.
The core capabilities of LED fixtures with LLLCs include:
Occupancy sensing
Daylight harvesting
Continuous dimming
High-end trim/task tuning
Controls persistence
These capabilities deliver flexible, perfectly lit spaces for customers. LLLCs maximize comfort through a combination of occupancy sensors and daylight harvesting, and save money and energy with high-end trim or task tuning—a capability that also reduces maintenance demands by extending LED source life.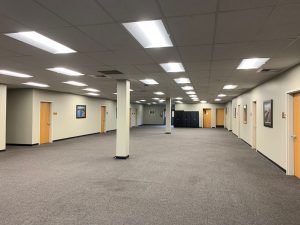 The owners of Seattle's South Lander Business Park experienced this maintenance-cost reduction first hand. They saved buildings up to $8,000 annually by installing LLLC systems in tenant spaces including small offices, showrooms and warehouse space. Their LLLC systems also enabled space flexibility and reconfiguration options at the touch of a button.
"The reduction in energy and maintenance costs are the top two benefits," said Joe Mitter, owner of South Lander Business Park. "Next would be the overall better quality of light."
LLLC systems represent a smart long-term solution for many buildings. By offering this technology, you'll provide them with an innovative, cost-effective and reliable solution that pays dividends for years to come. "In almost all cases, I would recommend spending the extra amount for controls because they give you so much future flexibility," said Mitter. "We're future-proofing our lighting for the next 15–20 years."
For additional LLLC information, including resources and trainings, visit: