Our exposure to lighting across the correlated color temperature (CCT) spectrum has a big impact on our circadian rhythm—the internal biological clock that helps to regulate our sleep patterns, feeding behavior, blood pressure, and body temperature. Therefore, lighting systems that offer more CCT control, such as tunable LED systems, can have a major impact on building occupant health.
As health impacts like this become more widely understood, studies have shown that an increasing number of building occupants expect more control over the CCT variance in their office or place of work. In the Northwest market, tunable LED systems have become an increasingly popular choice, as they provide end-users control across the CCT spectrum—from warm-white to cool-white.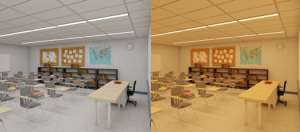 Tunable LED systems offer maximum flexibility for customers, providing them with the ability to adjust the CCT based on factors such as current merchandise, occupant preference or time-of-day settings. The result is a lighting system that delivers significant energy savings, and non-energy benefits—including circadian health—for most customers.
In addition to considering the CCT spectrum and its impact on our circadian rhythms when proposing solutions on your next project, don't forget to reference Illuminating Engineering Society's (IES) recommended light levels for each space to ensure the lighting system isn't over-illuminating unnecessarily.
Visit www.ies.org to access the IES Lighting Library including current recommended practices, design guides, and a download link for their free Lighting Ready Reference App.